Send Inquiry
Partner with us to get hands on the best quality-made Stretch Blow Molding Machine, Air Bubble Film Roll, Plastic Stretch Film Roll, etc.....

About Us

The passion for innovation, team work and constant up gradation of resources and processes, have helped Anu Industries in carving out a niche for itself in the domain. Formed in the year 2008, we are known as a prominent manufacturer and wholesaler of Air Bubble Film Roll, Air Bubble Roll, Bubble Wrap Roll, EPE Foam, Stretch Film, Stretch Blow Molding Machine, etc. Our offerings are developed as per the variegated requirements of our clients. We are committed to design products, whose premium quality standards help us in gaining appreciation of our clients. We are proud of our workforce that works hard to ensure that we not only meet but exceed their expectation and give them delightful experience while dealing with us.

Mr. R. Balakumar
is a man of excellent business understanding. He looks after smooth working of business unit and ensures to make effective marketing strategies, which hold the potential to provide benefit to the company.
Quality Assurance
There is no better quality-focused company than ours to avail Air Bubble Film Machinery, Stretch Blow Molding Machine, etc. Reason of this lies in the strict quality checking policy. As per the guidelines of this adopted policy, we carry out the work of production. At all stages of production, quality is maintained.
We conduct tests on range at our wide testing facility. Rigorous testing of products enable us to serve products of international quality standards.
Client Satisfaction/Clientele
We are happy to boast about being trusted by a huge client-base that beside placing repeated orders to us, recommend our name to others in the market. Winning loyalty of customers was never a difficult task for us and this is because of our ethical work approach. Since the year of formation in 2008, we have been cleared regarding our business intentions and have given customers, an assurance of serving value against money. Competitive pricing structure, honest employees and high quality standards are a few attributes, which help us to keep below mentioned and many more clients, close.
Hyundai Glovis
Hyundai Mobis
Nissan
Our Infrastructure
Our business entity works smoothly because of the support provided by well-equipped infrastructural base. This facility is divided into several business departments where production, quality checking, administration and packaging related works are easily carried out. All these departments are outfitted with right kind of machinery, tools and equipment and basic amenities, which make working smoother for employees.
Research & Development
Research and development department of our company is well-operated by a team of qualified researchers. These researchers help us to better production process by incorporating modern techniques. Also, they reduce manufacturing cost by using latest machines in the manufacturing process.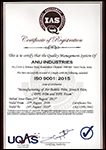 "We are looking for Local Inquiries mainly from South India"